DELAND PARKS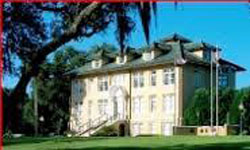 Bill Dreggors Park and Playground
230 North Stone Street
DeLand, FL 32720
386-740-5800

Bill Dreggors Park & Playground is listed on the National Register of Historic Places. It's named for William J. "Bill" Dreggors, who is known throughout the state for his work in historic preservation. The park contains the administrative offices for the City of DeLand Parks and Recreation Department, which is housed in the restored Memorial Hospital Building, built in 1920. The facility also includes the following: Bert Fish Room, the Operating Room & Apothecary Exhibit, the Veterans Gallery and the Ice & Electric Exhibit. Behind the building are The Veterans Memorial Wall, the Lemon Room and the Burgess Building which houses the Hawtense Conrad Elephant Fantasyland, the West Volusia Black Heritage Gallery and Conrad's Toyland. There is also a self-guided tour of the Sensory Butterfly Garden at Bill Dreggors Park. This garden was especially created for the visually and physically challenged, with plants selected to offer characteristics such as scent, color, texture, taste and touch. A 7/16 mile loop paved walking/jogging path and Freedom Playground are also located in the park.


Freedom Playground is the only community-built playground in DeLand. It was designed by Robert Leathers and is nestled under the shade of oak trees, with four picnic pavilions. Charcoal grills are at each pavilion. This park and playground is a popular spot in DeLand for children's birthday parties.

Earl Brown Park
750 South Alabama Ave
DeLand, FL 32724
386-740-5800

The Earl Brown Park offers a walking/jogging trail, skateboard park, playground and two basketball courts. In addition, there are picnic pavilions and a cooking shelter, restrooms and a duck pond at this park.

Sunflower Park
Corner of Church Street and Alabama Ave
DeLand, FL 32724
386-740-5800

Sunflower Park offers a walking path with five painted scenes along the way from the book "Alice in Wonderland." The first is a large pocket watch, depicting the scene in which the Rabbit in "late for a very important date!" Sunflower Park also has picnic tables and a covered stage with electricity and speakers. This stage is often used for weddings, concerts and other events. There are no restrooms at this park.

Jackson Lane Park & Playground
720 North Frankfort Avenue
DeLand, FL 32724
386-740-5800

Jackson Lane Park is a neighborhood park that is situated under a canopy of trees adjacent to a walking trail. The park also offers a playground, basketball court and Boy Scout facility. There are no restrooms located at this park.

In addition to the above parks, DeLand is home to the following playgrounds. All offer swings and other playground equipment for children, along with picnic facilities.

Eastside Playground
Corner of East Voorhis Ave & S Frankfort Ave
DeLand, FL 32724
386-740-5800

Candlelight Oaks Park & Playground
813 Longview Avenue
DeLand, Florida 32720
386-740-5800

Chisholm Playground
520 South Clara Avenue
DeLand, Florida 32720
386-740-6825

Highland Playground
Corner of South Stone and Highland Avenue
DeLand, FL 32720
386-740-5800