DELAND GOLF COURSES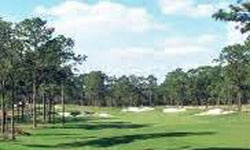 Everyone knows one of Florida's major attractions is its' year round golfing opportunities - and DeLand is no exception. With its' prime location in West Volusia County between the St. Johns River and the Atlantic Ocean, DeLand is home to several challenging and picturesque golf courses.

Victoria Hills Golf Club
300 Spalding Way
Deland, FL 32724
Phone: 386-738-6000

The course at Victoria Hills Golf Club was designed by Ron Garl. Mr. Garl was inspired by the area's rolling hills and natural beauty as he worked to create a tranquil, as well as challenging golf course. The 18-hole, par 72 course is surrounded by pristine lakes, old oaks and Augusta pines, making it one of the most beautiful and serene courses in the area.

Deland Country Club
2289 Country Club Drive
DeLand, FL 32724
Phone: 386- 734-9675

DeLand Country Club has 18 holes and is surrounded by tall oaks, pines, and rolling hills that characterize the DeLand area. The country club also offers a Pro shop, professional instruction, putting green, chipping green, and driving range. The clubhouse includes a dining room with panoramic views of the golf course, a lounge and private meeting rooms. Individual lessons are available at DeLand Country Club from Rob Onusko for $30 per half hour / $60 per hour. A package of 4 -$150 includes four-half-hour lessons, and a one hour playing lesson.

Southridge Golf Course
800 East Euclid Avenue
DeLand, FL 32724
386-736-0733

Southridge Golf Course is a family owned and operated business, designed by architect Dave Wallace in 1968. The DeLand area is unique for golf, in that it's known for its' sand hills, which offer the golfer changes in elevation not normally associated with central Florida. Southridge Golf Course was designed for walkers, with the holes close together - yet not too close to give the feeling of being too tight for golfers. The course is home to several Sand Hill Cranes who are friendly to visitors and sometimes quite noisey! Golf lessons are also available at Southridge

RAINCHECK POLICY AT SOUTHRIDGE
Full value rainchecks are given if you have played less than 5 holes when the rain commences. If you have played nine of eighteen holes a raincheck will be given for one-half of your ticket value. Rainchecks will not be given for tickets purchased after the "No Rainchecks" sign has been posted. The "No Raincheck" sign will be posted when inclement weather is imminent.